YOUNG CREW CHIEFS BUILDING TEAMS OF THE FUTURE


(NASCAR explores the next generation of the sport via its new millennium celebration -- NASCAR 2000)

DAYTONA BEACH, Fla. (July 20, 2000) -- With young crew chiefs like Greg Zipadelli, Tommy Baldwin and Jimmy Elledge taking the reins in the NASCAR Winston Cup Series, NASCAR 2000 wanted to know how these guys were building the teams of the future. How are they finding the talent, how are they training crew members and how do they hold onto those that stand out among the rest?
"You can find a ton of people that are interested in working in racing," said Elledge, crew chief for the No. 55 Square D/Cooper Lighting Chevrolet driven by Kenny Wallace. "The trick is finding people that are capable of doing it well."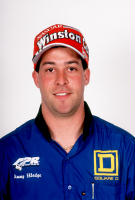 The pressure to succeed on the track puts incredible demands on the teams, both in the pits and in the garage. The search for the perfect team is never complete and today's crew chiefs realize that technical knowledge is only part of the equation. What applicants lack in experience, they need to make up for in desire.
"I spent two or three years working with people at Richard Childress Racing to earn respect before I was even valued for my opinion," said Elledge, 30. "You don't just break in at a place like that at this level and become specialized at something overnight."
So how do crew chiefs decide which kids get a chance?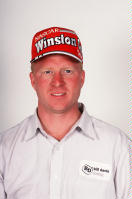 "We like to have very qualified people in key positions, and then we bring in new people who we can train to do things the way we do them at Bill Davis Racing," said Baldwin, crew chief for the No. 22 Caterpillar Pontiac driven by Ward Burton. "That way they don't come in with any bad habits that we have to break.

"The people with the most heart seem to be the ones that succeed," added Baldwin, 33. "The others tend to weed themselves out. You see guys in the garage going from team to team and we try to stay away from people like that."
Zipadelli, crew chief for the No. 20 Home Depot Pontiac driven by Tony Stewart, surrounds himself with "car guys."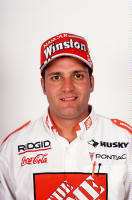 "There are a lot of people out here making a living in racing," noted Zipadelli, 33. "But there is only a small group of guys doing it with the passion of Saturday night short track racers.

"My core group knows the car from front to back and we can all sit down and talk about almost anything. I think some teams are a little too specialized and that can come back and bite you if you have to wait on one person to get something done."
In addition to traditional on-the-job training, many teams are looking to colleges, trade schools and rapidly growing motor sports curriculums.

Many of the crew chiefs, through their membership in the Crew Chief Club, are working with programs at the Universal Technical Institute (UTI) in North Carolina, making sure the school is developing talent in a useful way.
"We go through all of their text and make speaking appearances for them," Elledge said. "They are very interested in finding out what we need in NASCAR. They really want to do it right."
Adds Baldwin: "Education is the wave of the future."
So once you've got the team you want, how do you keep crew members from moving on?
"Everyone on the team is important and I try to treat them that way," Zipadelli said. "I count on each of them to do a good job and I let them know how important they are."
For most teams, keeping talented team members is just good business.
"In the past, crew chiefs were not under contract," Elledge said. "Now, not only do crew chiefs have contracts, but the team's best people are under contract too. You have to protect your talent."
© 2000 NASCAR
Inside
Guest Book - E-Mail
® AMA Pro Racing
NASCAR Winston Cup Series
NASCAR 2000
NASCAR Busch Series
NASCAR Goody's Dash Series
NASCAR Slim Jim All Pro Series
NASCAR Craftsman Truck Series
NASCAR Touring
ASA-ACDELCO
Racin' Florida Style
---
Page maintained by Charles Gove, WebEditor@fastlaneracing.com. Copyright(c) 2000 fastlaneracing.com - All Rights Reserved. No part of this document may be reproduced, in part or whole, without the express permission of the WebEditor@fastlaneracing.com.. Created: 7/21/00 at 4:28:08 AM Updated: 7/21/00 at 4:32:23 AM